Mrs. Soundaranayaki Vairavan
Qualification
She has a Bachelors in Arts Degree in History with Ethiraj College, Madras University,Diploma in Freelance Journalism with International Correspondence School and Masters in Communication Management with University of South Australia.
Industry Experience
She has worked as a part-time tutor with Communications and New Media Program,National University of Singapore. She has also worked part-time for the Singapore Tamil daily 'Tamil Murasu'.
Writer
She writes both in Tamil and English. She has published more than hundred articles for various publications in India, Sinngapore, Malaysia. the USA. Srilanka and Congo, Africa like The Hindu English, The Hindu Tamil, Nanal, Nagarathar Malar, Namathu Nagara Malar, Aachi Vanthachu, Thisaigal, Dinamani Kadir, Singai Chudar, Tamil Murasu, The Serangoon Times, Kumudam publications, One India One People, IgoUgo, Daily Mirror and others.
Editor
Initiated and was the first editor of the magazine 'Singai Nagarathar Malar' in the year 2003 and subsequently for the year 2015.
On-line Editor
She has been the editor of the E-Magazine 'Online Voice' at http://www.onlinevoice.info , since 2001.
Author
She has written four books in Tamil and two books in English. They are Singapore- Oru Mulumaiyana Parvai, Tamil and Tamils in SIngapore, Pengale, ungal mathipai uyarthikulungal Tamil Isai – oru Kannottam (with Mrs Gowri Gokul) in Tamil and Nagarathars in Singapore (with Dr Sp. Thinnappan),  Tamil Community and the Making of Modern Singapore (with Mr A P Raman) in English.
Public Speaking
As a member of Toast Masters Club, she has won the best speakers award, several  times. She was in charge of conducting the monthly poetry session when in the EXCO of Singapore Tamil Writers Association.
Her speech during various occasions such as her book release 'Singapore our mulumaiyana parvai' and her video featuring during the 75th year celebrations of Tamil Murasu caught the attention of many.
Member in
Singapore Tamil Writers Association
Madhavi Literary Society
Global Organization of the People of Indian Origin (GOPIO)
LISHA Women's Womg
Singapore Indian Chamber of Commerce (SICCI)
Abdul  Kalam Vision Society
Inter Religious Organisation
Vocal Singer
She has released two music albums 'Vocal Songs Six' and 'Tamils in Singapore'.  She has given more than 100 performances in Singapore, Malaysia and India.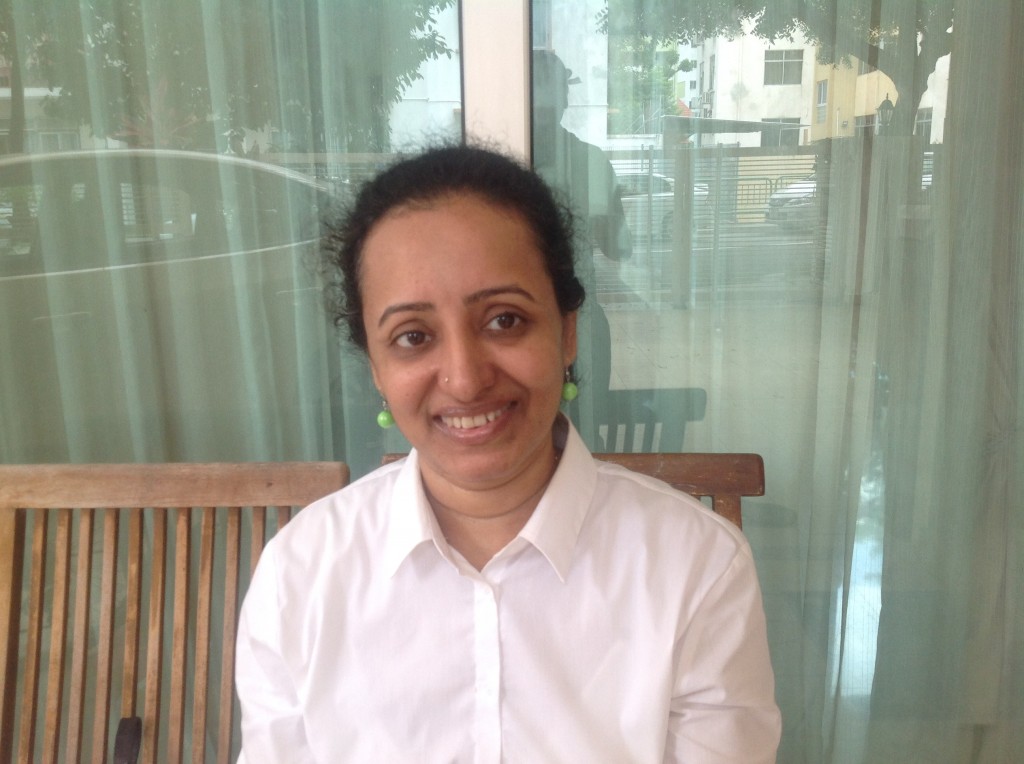 Singapore oru mulumaiyana paarvai
Soundaranayaki Vairavan Speech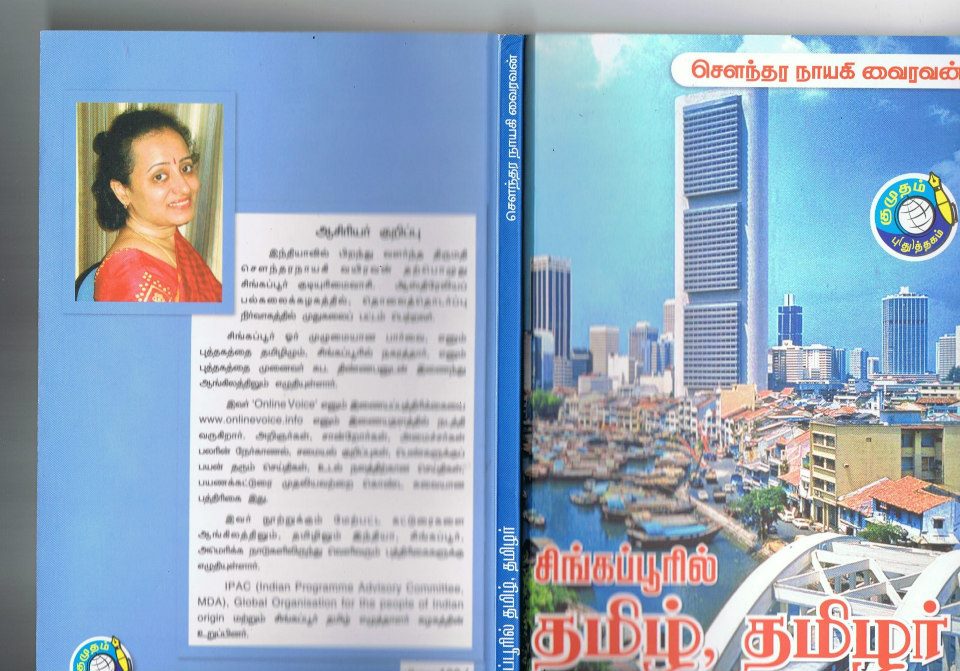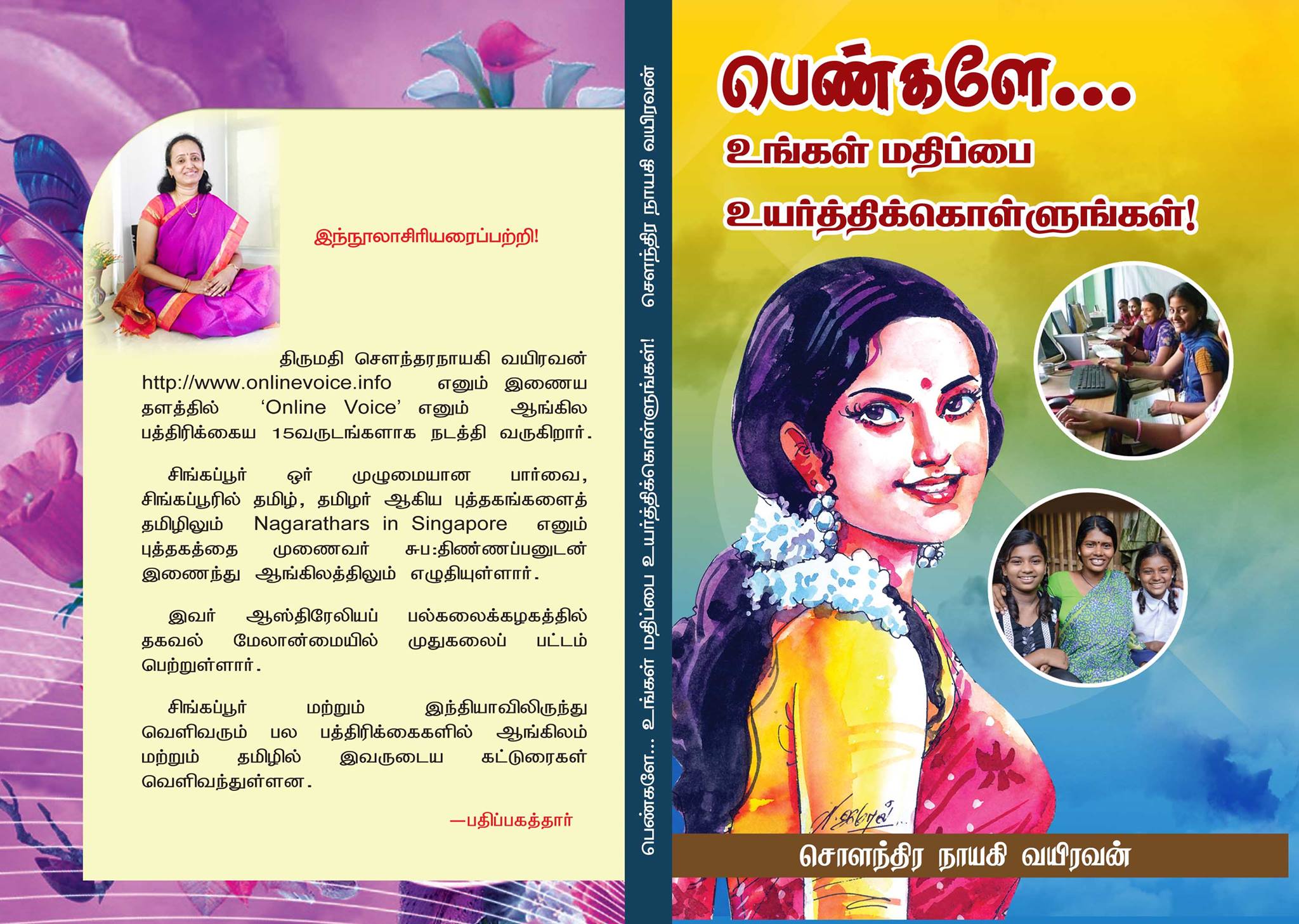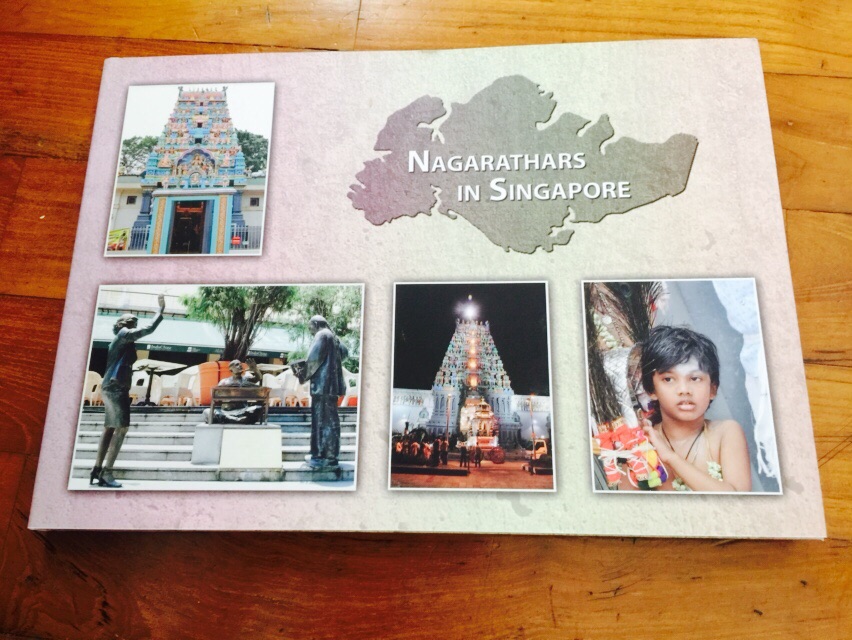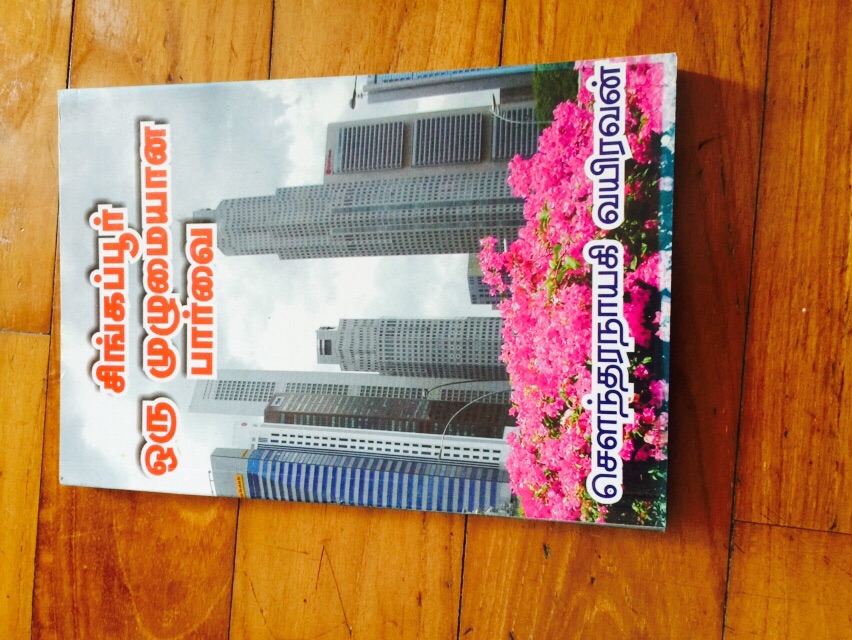 Brahmanum Vishnuvum - Soundaranayaki Vairavan
Jeya Jeya Jeya Gana Nadha - Soundaranayki Vairavan
Devi Un Mahimai - Soundaranayaki Vairavan
Bomma Bomma Tha - Soundaranayki Vairavan